---
If you have available land at your facility or nearby, ground mounted systems offer great value and economies of scale. Each system is customized for your site based on the local environment, orientation, and electrical design.
See How It Works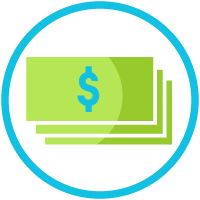 Best Value
Ground-mounted solar is the best value per watt compared to other installation methods. Installation, including materials and labor, is typically cheaper than roof mounted or parking canopy solutions due to economy of scale benefits.
Optimized Electricity Generation
Ground mounted systems are not limited by the slope of your roof or size of your parking lot, allowing customized panel tilt to maximize electricity production. These solutions also offer more flexibility with the site layout and row spacing. Solar trackers, which automatically adjust module tilt throughout the day, may also be good candidates for your site.
Sustainability
Beyond the benefit of electricity savings, solar can help your organization meet Corporate Social Responsibility (CSR) goals as you participate in clean energy while helping your state and community climb towards renewable energy targets.
Targeted Expertise

Our team has more than a decade of renewable industry experience, serving business, public sector, and wholesale power customers around the world.
Consult
Our team works with you to determine the ideal solution and project size.
Prepare
We take care of project financing, engineering, permitting, and interconnection to prepare your project for construction.
Construct
Our experienced project managers and construction partners get your system built and running with minimal impact to your daily operations.
Operate
After completion, your system includes monitoring and routine maintenance to ensure long-term reliability and performance.
---
All solar projects with ForeFront Power include added value with no extra cost. That means peace of mind as your renewable energy strategy is executed over the long term.
System Monitoring
With our company as your long-term solar project manager, you receive access to monitoring through a web-based asset management application that delivers insight into the performance of your solar project.
Operations & Maintenance
Our approach makes solar simple. All solutions include full management over the life of the project, including design, installation, operations, and maintenance.
Portfolio Management
Our team of professionals is experienced at handling multi-site, geographically dispersed portfolios of solar sites. With a single point of contact for your account, we'll always be ready to respond to your needs, wherever they may be.
Interested in learning more?
We would love to discuss how our solutions might be a fit for your organization. Contact one of our solar, storage, or e-mobility experts today: