---
Our Wholesale Power Purchasing option lets organizations break free from traditional consumption models and effectively manage long term cost exposure while enjoying the benefits of procuring renewable energy.
See How It Works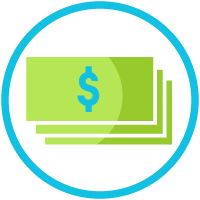 Save on Electricity
What if you could lock in today's historically low energy costs for the next 10 years or more? A Wholesale Power Purchasing solution lets you do just that – all with no upfront costs. It's like having your own private, fixed price pump at the gas station for the amount you need.
Price Certainty
It's no secret that energy prices can be highly volatile. Technology, global politics, and economics collide in the energy markets resulting in volatility that leaves consumers victim to the unpredictable dynamics. By contrast, wholesale solar procurement allows you to procure power at a stable, predictable rate over the long term.
Avoid On-Site Challenges
For some customers, on-site solar projects simply do not work. Roof conditions, landlord concerns, and overall available space can all make considering an on-site solar system a challenge. Wholesale solar energy, procured from off-site installations, help avoid these challenges and reduce the risks associated with site closings and load changes over time.
Beyond Traditional Markets

ForeFront Power goes beyond traditional renewable energy markets to engage customers in underserved territories through wholesale renewable energy power procurement solutions.
Consult
Our team works with you to determine the ideal solution and project size.
Prepare
We take care of project financing, engineering, permitting, and interconnection to prepare your project for construction.
Construct
Our experienced project managers and construction partners get your system built and running with minimal impact to your daily operations.
Operate
After completion, your system includes monitoring and routine maintenance to ensure long-term reliability and performance.
---
All solar projects with ForeFront Power include added value with no extra cost. That means peace of mind as your renewable energy strategy is executed over the long term.
System Monitoring
With our company as your long-term solar project manager, you receive access to monitoring through a web-based asset management application that delivers insight into the performance of your solar project.
Operations & Maintenance
Our approach makes solar simple. All solutions include full management over the life of the project, including design, installation, operations, and maintenance.
Portfolio Management
Our team of professionals is experienced at handling multi-site, geographically dispersed portfolios of solar sites. With a single point of contact for your account, we'll always be ready to respond to your needs, wherever they may be.
Interested in learning more?
We would love to discuss how our solutions might be a good fit for you. Contact one of our solar energy experts today: